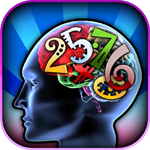 &nbspVery Addictive math puzzle game with 20 packs having nine levels each!!!Mathed is one of the best android puzzle game and casual game supporting all popular mobile devices. Mathed Support : Mathed runs in over 1500 android mobile devices. We made our best effort in testing it in several popular devices.


Addition, Subtraction, Multiplication, Division and Mixed game modes.
Each level is progressively challenging and very addictive.
Challenge your skills in 5 game modes in 20 Packs.
Compete with thousands of players around the world.


Game Features:




Awesome graphics with fluid animations.
All game modes have individual player ranking system based on the highest level/Score achieved.
Your rank naturally improves along with your skill as you play again and again, thats what makes Mathed so addictive.
Tap the numbers such that the result of them equals the given number.
In each operation, higher the taps, higher the score you will get.
Play with strategy to tap more numbers in each operation.