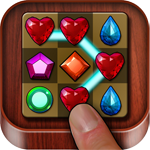 New Swipe action based addictive puzzle game! First of its kind for iPhone/iPod/iPad.Swipe and make longest chains of similar gems in this challenging puzzle game with exciting special powers.Swiped Introduces five new game modes along with our Original(Classic) game mode as below.
Swiped has five different game modes as below.



Classic : Achieve the target in given time to complete each level.
Gem Mania: Match target gems in given time to complete each level.
TimeAttack : Tests your raw pattern swiping speed in 1 Min, 5 Min, 10 Min & 30 Min.
ScorePanic : Very dynamic fast paced game.
Continuous : Non stop gem swiping fun.


Game Features:




Awesome graphics with fluid animations.
All game modes have individual player ranking system based on the highest level/Score achieved.
Plain Mode option to switch off special items.
Unlimited levels! It needs only your skill to crack a new level. Complexity of the game increases progressively from level to level.
Auto saving & loading supported for all game modes.