Swiped Fruits Description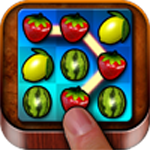 &nbspAmazing fruits swiping game with unlimited levels! Sequel to the best swipe game! Very addictive casual game with unlimited levels in five interesting game modes!!! Swipe and make longest chains of similar fruits in this challenging puzzle game with exciting special powers.


CLASSIC : Achieve the target in given time to complete each level.
FRUIT MANIA : Swipe the target no of displayed fruits .
TIMEATTACK : Tests your raw pattern swiping speed in 1Min, 5Min, 10Min & 30Min.
SCORE PANIC : Very dynamic fast paced game.
CONTINUOUS : Non stop fruit swiping fun.


Swiped Fruits Main features
Game Features:




Awesome graphics with fluid animations.
Each level is progressively challenging and very addictive.
Auto saving & loading supported for all game modes.
Excite Monkey & Tarzan by swiping over them along with similar fruit chains.
Your rank naturally improves along with your skill as you play again and again, thats what makes Swiped so addictive.
Plain Mode option to switch off special items.
Unlimited levels! It needs only your skill to crack a new level. Complexity of the game increases progressively from level to level.


Swiped Fruits Screen Shots