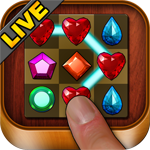 &nbspPlay online multiplayer matches in several game modes with players around the world!!!
Swiped LIVE
is one of the best android puzzle game and casual game supporting all popular mobile devices
.Best online multiplayer gem swipe game with full features for free!
Swiped Live Support : Runs in over 4000 android mobile devices.
Play in 3 game modes with 4 game room types based on player skill rating.
Up to 10 players can compete in a game room.
Free Lucky wheel spin every day.
Earn coins in every game based on your position.
Swiped Live Main features
Game Features:




Eight gem powers to choose and boost your game.
Touch and swipe over similar gems to clear them.
In each swipe action, Longer the chain of gems, higher the score you will get.
Excite gem powers by swiping over them along with similar gem chains.
Use special gem powers like Magician & Witch to get more points.
Play with strategy to form and swipe longer chains.