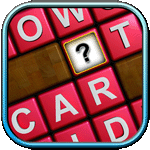 &nbspFun with Blanks! New & Addictive word filling game with several packs based on different topics!!! Word Fill is one of the best android puzzle game and casual game supporting all popular mobile devices.
Word Fill Support : Runs in over 3000 android mobile devices.



Normal, Medium, Hard & Expert difficulty modes.
Challenge your skills in 4 difficulty modes in several packs.
Languages : English, Spanish, French, German, Italian & Portuguese.

Each pack is based on a particular topic with nine levels.


Game Features:




Awesome graphics with fluid animations.
Choose your board size to match your skill.
Your rank naturally improves along with your skill as you play again and again, thats what makes WordSwipe so addictive.
Find all the words in the list to complete the level..
Faster you find words higher the score & ranking.
One and only Word filling game with scores, ranking and online competition.